Bottom line: Which ski goggle brands are the best for you?
Want the short version? We researched all the best ski goggle brands, to come up with a list of 13. From there, we shortlisted the 3 best.
Put simply, the very best snow goggle brands from our list of 13 leading manufacturers are:
And, we researched 3 sets of goggles from each brand (so 9 in total). Here are our picks for the best ski goggles:
Read on to discover how we picked brands, goggles, and our complete list of the best manufacturers.
How We Picked
You'll catch us trawling ski and snowboard gear on a daily basis (and using that kit when we can), so we already know what the best ski goggle brands are.
But instead of a long and boring list of snow goggles, we wanted to filter it down to a specific list to make buying a new set of goggles a breeze.
So, how did we pick?
We dug through reviews on the likes of Amazon, eBay and online ski stores like this one, as well as accounting for our personal experience on the slopes.
Then, we compared the likes of:
Lens tech
Warranty
Price
Ventilation
Design
And here is the result of our research...
The Shortlist: Our Top 3 Ski Goggle Brands
Want the absolute best ski goggles? You'll want to stick to our recommendations below from Oakley, Smith and Giro.
These are the goggle brands that offer the best value for money allround, and we've recommended a specific model of goggles from each brand for kids, women and men.
Oakley Ski Goggles
Based in California, Oakley is a brand that needs no introduction for the average adrenaline junkie. They make cycling sunglasses, dirt bike goggles, and of course, goggles for snowboarding and skiing.
Our experience tells us Oakley offers some of the best ski goggles that money can buy, and reviews from buyers seems to confirm that. But which specific models should you be looking at?
Men's & Women's - Oakley Flight Deck
Oakley does make ski goggles specifically for men and women. The women's ski goggles tend to have a slightly smaller frame. However, for our pick for Oakley's best ski goggles, we've gone with the Oakley Flight Deck, which is suitable for both men and women.
I'm a massive fan of wide frame/wide lens goggles, and that's what you'll get here (the frame is actually rimless, giving you that little bit more peripheral). That makes these goggles suitable for all types of skiers and snowboarders, including those looking for over the glasses (OTG) goggles .
The Oakley Flight Deck aren't just comfortable to the touch, they're practical. The face foam wicks away sweat and moisture. This combined with an anti-fog lens means fogging is a thing of the past.
And of course, like all of the best ski goggles on the market, the Oakley Flight Decks are helmet compatible and come with a 1-year warranty.
Kids - Oakley Line Miner
Looking for the best ski goggles for kids? You should have a set of Oakleys on your shortlist. And in our opinion, the ones on your shortlist should be the Oakley Line Miner.
Depending on which frame and lens color you choose, you'll be looking at a cost of just under $130-150, which is a really good deal. They come with a 2-year warranty as opposed to the 1-year that the Oakley Flight Decks mentioned above come with.
The Oakley kids goggles have a slightly smaller frame design that sits closer to the face in comparison to the adult models, which increases peripheral vision for small and upcoming shredders.
And like all Oakleys, the tech built into the lens isn't shy of the best. You'll get a Prizm™ lens on the kids Oakley Line Miner. That's going to not just offer excellent definition, but contrast too, making skiing and snowboarding in all types of light conditions a breeze.
Itching to get the best deal on the kids Line Miner ski goggles? We found a stonking deal on them over at this ski store, and there are some cool customer reviews to browse through too.
Smith Ski Goggles
Like Oakley, Smith Optics are known throughout the extreme sports industry. They make glasses, goggles and eyewear in general for everything from cycling, golf, surfing and of course, for us shredders too.
In terms of ski goggles, Smith has been a leading manufacturer for years, and it's products like the ones mentioned below that help solidify them as one of the best in the business.
Looking for the best Smith ski goggles? We've got picks for men, women and kids below.
Men's - Smith I/O Mag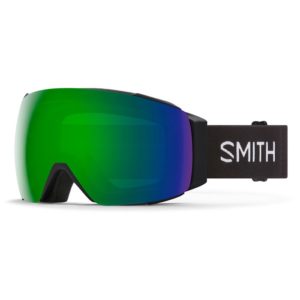 Note: The Smith I/O Mag ski goggles can be used by women. However, manufacturers tend to make goggles specifically for women which incorporate a smaller frame (we've recommended the Smith Riot for female skiers and snowboarders).
Why choose the mens Smith I/O Mag snow goggles? Well for starters, they come with a limited lifetime warranty. You'll find with most ski goggle brands, warranty tends to be 1-year, maybe 2-years if you're lucky. So, the limited lifetime warranty is a nod to exactly how durable Smith Optics think their goggles really are.
Lens tech is another good reason to be choosing the Smith I/O Mags over any other. The magnetic lens combined with the lever lock system doesn't just mean you won't have problems with lenses popping out; they're ridiculously easy to change too.
Once you've got the ChromaPop™ lens fitted, you'll get a wide field of vision. And, that lens comes with AirEvac™ Integration Technology, meaning the fogging you get with cheap goggle brands? You won't be getting that here.
Like all the best ski goggle brands, Smith has made sure the I/O Mags are helmet compatible, and you'll be able to get them with change from $300 from here.
Women's - Smith Riot
Like the Smith I/O Mag, you'll be getting a limited lifetime warranty with the Smith Riot women's ski goggles. And at a price point of just over $100 (so, a big chunk cheaper than the I/O Mag mentioned above), that's a great deal.
We found a good store here offering them at ridiculously low prices, and there's a few insightful customer reviews to read too.
The Cylindrical Carbonic X Lens on the Smith women's goggles are going to give you the best field of vision possible, and they look pretty-sleek too. And given how much cheaper they are than the Smith I/O Mag, we're pretty impressed that they come with the ChromaPop lens technology.
You'll get a much smaller frame which sits the lens closer to your eyes - ideal for those with smaller faces - which offers a much better fit and range of vision in comparison to the large OTG frame that the Mags use.
And, if you've had fogging problems in the past; no need to worry. Brands like Smith spend a lot of time ensuring their goggles don't steam up on the piste. One of the main contributors to lack of fogging is the 2 Layer DriWix Face Foam, which wicks away sweat and moisture with ease.
Like the sound and look of the Smith Riot ski goggles? We do too, especially for a set of ski goggles under $150!
Kid's - Smith Grom
Specifically looking for Smith ski goggles for kids? The Smith Groms are the model you should be looking at. At under $100 and with a limited lifetime warranty, you're going to struggle to find a set of kids goggles from a leading brand that offer better value for money.
Similar in a way to the Smith Riot for women, the kid's Groms feature Carbonic-X lenses which helps to reduce glare dramatically. But if your kids don't feel that glare is cut down enough, the goggles are compatible with sunglasses.
Put simply, the Smith Grom goggles are the best ski goggles for kids, and the reviews we found prove that. You can read reviews and grab the Smith Grom for an absolute steal over here.
Giro Ski Goggles
Giro is a brand well known in the cycling industry, but the past decade has seen them gain massive traction in the ski and snowboard industry. Pretty-much any article covering top snow goggles is going to include a set or two of Giros.
Men's - Giro Axis
The Giro Axis are the best ski goggles for men in the Giro range. Not only are they super cool looking, the combination of them being part-frameless and the cylindrical mirrored lens EXV design, means these are some of the coolest ski goggles on the market.
And, we're surprised they're not more expensive. When you consider the likes of the Smith I/O can stretch to $280-300; you'll be paying around $100 less for the Giro Axis goggles. That's a HUGE saving!
You'll get a quick change lens system, vented foam to improve anti-fog capabilities, and a lifetime warranty. Not bad for a set of goggles under $200.
Women's - Giro Ella
The Giro Ella ski goggles are our top pick for women on this list, not least because they're the best looking. But what about functionality?
First up you'll get a magnetic-assist Quick Change system for lenses. So, if you switch from day light to night skiing or snowboarding, you can change lenses in seconds.
And of course, no set of Giros is complete without anti fog capabilities. Whilst the lens does have anti-fog capabilities, it's really the triple layer face foam (that effortlessly wicks away moisture and sweat) that plays the biggest role. Fogging on the slopes is going to be a thing of the past.
You can grab them for under $200 here, as well as read the reviews from 30+ happy customers at the same time.
Kid's - Giro Grade Goggles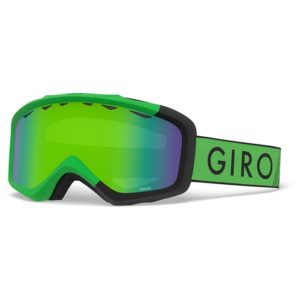 Whilst we prefer the kids ski goggles offered by brands such as Oakley and Smith, there's no disputing the epic value for money that Giro offer. In short, the Oakley and Smith snow goggles are priced in the $100 range. The Giro? Around half that, and the only ski goggles under $50 on this list.
But, you'll still get a comfy goggle foam, fog resistant lens and helmet compatibility. So, if you're looking for a cheap set of ski goggles for your kids from a leading brand, the Giro Grade are the ones for you.
You can grab them for under $50 and read 20+ customer reviews over here.
Full List: The 13 Best Ski Goggle Brands
Not partial to goggles from Oakley, Smith or Giro?
If you're going to veer from our top picks, you still need to stick to the best ski goggle brands.
The brands offering excellent UV protection, the best fit, ventilation and gaining top reviews online include:
Atomic
Anon
Bolle
Dragon
Electric
Giro
Oakley
Roxy
Salomon
Smith
Spy
Von Zipper
Zeal
This ski store has deals on all the brands mentioned in our list.
In Summary
And that's it. Our guide to the best ski goggle brands, and some specific recommendations (available here), being the:
Oakley Flight Deck for men
Giro Ella for women
Smith Riot for kids
Enjoyed our ski goggle brand guide? We regularly post up tips and guides like this one on goggle VLT ratings. Add our page to your bookmarks and we'll see you soon!