In Summary: How much should you expect to pay for skis and ski package deals?
We researched 583 sets of skis to work out a cost range, and what you should expect to budget for a quality setup. Here's what we found...
Prices start at $170 for the cheapest kid's skis, rising to $1299 for the best adult skis.
On top of this, you'll be needing boots and bindings. Bindings start at $90 rising to $800, and boots tend to be in the $90-400 range.
That's a ton of choice, and a huge range in terms of pricing. That kind of makes things confusing when it comes to making a purchase decision.
The bottom line?
After analysing the cost savings by buying package deals, we found that's the most financially economic route to take.
For kids, we found the best deal in terms of overall cost is the Rossignol skis and bindings package here, then buy the boots separately to save a chunk of cash.
For adults, the best deal we found was by buying a complete package; skis, boots and bindings as a set.
You'll be able to get a full setup from Rossignol for just over $1,000...an incredible deal given the quality of the overall package.
Keep reading to see further analysis on the costs associated with buying products individually and as a package.
Cost Guide: Skis, Boots & Bindings
We've researched all the best ski, boot and binding brands to determine how much skis cost. From there, we've also been able to determine whether it's worth buying a ski package to save cash.
Ski Cost
First, we have the cost of skis, without boots or bindings. If you jump over to here, you'll see a range of skis from leading brands such as:
Black Crows
DPS
Folsom Skis
G3
Head
K2
Lib Tech
Line Skis
Rossignol
Salomon
Volkl
There are 583 products available, and here are the ones with the best reviews, from the extremely cheap, to the ridiculously expensive.
We found skis for sale on the above leading ski retailer ranging from $170-1299.
Put simply, if you're looking for quality skis but are on a budget, allocating $300-500 is more than enough. However, if you're an intermediate to expert skier and are looking to grab every bit of performance possible, looking towards the high end with a $600-900 budget is going to be more realistic.
Premium
At the high-end, we have products in the $600 to $1299 range from DPS and Black Crows.
Men's DPS Pagoda Piste 94 C2 - $1299
Women's DPS Pagoda Tour 100 RP - $1299
Kid's Black Crows Atris Jr - $600
Budget
Then, looking at cheap skis only, we have prices sitting in the $170-320 range.
Men's K2 Press - for sale at $240 with a MSRP of $300
Women's K2 Mindbender 85 Alliance - on sale at $320, down from the $400 MSRP
Volkl Revolt Skis for kids - discounted to $170 from the MSRP of $210.
Ski Boot Cost
But, you need more than just a set of skis. The next step is to choose some boots. So, how much do ski boots cost?
We checked out 456 products over at a leading ski retailer (here) to compare prices, including some really cool sets of ski boots from:
Atomic
Dalbello
Fischer
Head
K2
Nordica
Rossignol
Salomon
Scarpa
Tecnica
For kids, you're looking at prices in the range of $90-$400 depending on brand, your kid's experience, and the tech you're looking to have built into your boots. So, a rough budget of $150-300 is going to suffice.
Men's and women's ski boots cost much more. The lowest price we found was the Dalbello DS MX 65, retailing at $199.95. Prices rise to nearing $800 for the Fischer 130. So, expect a good set of ski boots to cost in the $300-500 range, more if you have the budget.
Premium
Kids Salomon Shift Pro 80T AT Alpine Touring Ski Boots - $399.99
Men's & Women's Fischer Ranger 130 - $799.99
Budget
Men's & Women's Dalbello DS MX 65 - $199.95
Kid's Atomic Hawx Jr 1 Ski Boots, priced at $90 (but currently on sale, so price may change).
Cost of Ski Bindings
Prices for ski bindings vary from the extremely expensive (ATK Freeraider 14 Freeride Alpine Touring at $800), and the ridiculously cheap (Look NX 11 ski bindings at around $100).
So, a budget of around $150-200 for kids and a minimum of $200-300 for adults is where you need to be at.
However, ski bindings are meant to be paired to specific skis and boots, so price is determined by the skis and boots you choose.
You might choose the cheapest skis and boots, but the bindings compatible with those bindings might not be the cheapest available; something worth considering.
There are a ton of bindings priced very competitively over at this ski retailer.
Ski Package Cost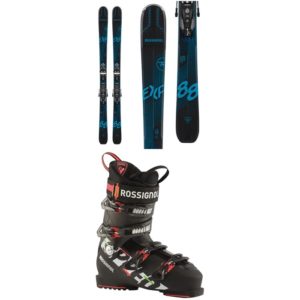 If you want the best value for money, you'll want to purchase a ski package. In general, most ski retailers give a heavy discount on packages, and that means you can either save cash, or you can get a much better ski set than you would by purchasing each item individually.
Some ski packages will come with skis and bindings. Others will be complete with skis, bindings and boots.
As an example for kids, buying skis, bindings and boots separately is likely to cost $350 at the low end, and up to $800 if you're looking at top of the line kit.
However, we found the Rossignol Experience Pro skis ​and bindings for under $160. Couple that with a cheap set of ski boots and you've got a pretty-good setup for under $300.
The same goes for adults. Even the cheapest of setups (when purchasing boots, bindings and skis individually) would be in the $700-800 range.
And, you get what you pay for. We found this package being the Rossignol Experience 88 Ti ski, SPX GW Binding​ and Speed 120 boots. That's a top quality ski set, and priced at just over $1,000, which isn't fair off - cost wise - than the cheaper and lower quality setups (skis, boots, bindings), when items are purchased separately.
Put simply, you get a ton more bang for your buck when buying ski packages rather than items individually. There are plenty for sale over here, a top ski retailer here in the USA.
Wrapping it up
And that covers our quick guide to binding, boot and ski costs, for all budgets and for men, women, and kids.
Enjoyed our guide to equipment prices? We regularly post up content like this, as well as reviews, like our one covering the ski goggle brands. Bookmark SkiSurfWake.com and pop back soon to see what's new.