Bottom Line
There are some great wakeboards around right now, but in the end the unbeatable speed and pop of the Ronix One Time Bomb made it our pick for the best wakeboard this year. For beginners we opted for the Hyperlite Skate 2.0.
However, with both of these boards being best suited for boat waking, we picked the Hyperlite Wishbone as our top pick for those who prefer to do their wakeboarding in cable parks.
And for those on a budget, we highly recommend the super affordable Hyperlite Motive.
These are the best wakeboards in 2020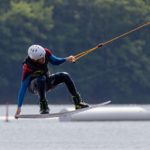 How we picked
We spent around 11 hours researching wakeboards from the leading wakeboard brands. We considered price, features, the reputation of the wakeboard brand, and real customer reviews to make our decision, and in the end whittled down our choice to just 5 wakeboards.
We also made sure there was a wakeboard option for all budgets and experience levels, and have a mix of cable park and boat wakeboards.
Reviews: This year's best wakeboards
The Hyperlite Skate 2.0 sits somewhere in the middle budget wise. But beginner wakeboarders are going to appreciate just how easy it is to get out on the water and start wakeboarding with this board.
Hyperlite designed the board with a shorter toe-side edge. Which makes it super maneuverable, and much easier for beginners to take on wake jumps than a standard shaped board.
For balance, the heel-side edge is longer, which gives the Skate 2.0 a unique, asymmetrical appearance. And although the overall surface area of the board is smaller than a standard wakeboard, this asymmetry still allows for plenty of pop.
If you're just starting out in wakeboarding, the Hyperlite Skate 2.0 is our top pick for you.
best for beginners
Hyperlite Skate 2.0
The Hyperlite Skate 2.0 is our pick for the best wakeboard for beginners this year.
Check price on EVO
We earn a commission if you click this link and make a purchase at no additional cost to you.
2. Ronix One Time Bomb - best for experienced wakeboarders
All things considered, the Ronix One Time Bomb is our pick for this year's best overall wakeboard.
It has an insane amount of pop, and if you're looking to add some height (and distance) to your jumps, then this is the board for you.
Although with that being said, we'd consider this a board for more experienced wakeboarders. It's going to ride high on the water, which will help it glide and produce more speed through the waves. And that speed might be a little too much for beginners to handle.
But if speed, pop for days, and towering jumps are your thing, then the Ronix One Time Bomb is going to be the perfect choice.
Pros
Maximum pop
Rides high on the water for extra glide and more speed
Extra height on jumps
Perfect for experienced wakeboarders
Cons
Not for beginners
Boat board, so not ideal for cable parks
our top pick
Ronix One Time Bomb
The Ronix One Time Bomb is our pick for the best overall wakeboard this year.
Check price on EVO
We earn a commission if you click this link and make a purchase at no additional cost to you.
3. Hyperlite Wishbone - most popular and best for cable parks
With mid pop and flex, the Hyperlite Wishbone is a good all-rounder, and one of the most popular wakeboards available right now.
The Wishbone's machined wood core makes it most suitable for cable parks, with strategic slots cut through the core to reduce the weight of the board, and allow for more air time.
An ABS sidewall will protect your board from side impacts, and the layered glass will also help to prevent delaminating, and preserve the longevity of your board.
A great wakeboard, which is popular for a reason.
Pros
Mid pop and flex make the Hyperlite Wishbone a good all round wakeboard
ABS sidewall protects the board from side impacts
Layered glass prevents delam and ensures the board retains its pop
Cons
Cable board, so not ideal for boats
Not the cheapest board around
Best for park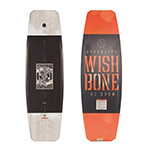 Hyperlite Wishbone
The Hyperlite Wishbone is our pick for the best wakeboard for cable parks this year.
Check price on EVO
We earn a commission if you click this link and make a purchase at no additional cost to you.
Liquid Force is a Californian Wakeboard brand, which doesn't quite have the same recognition as Ronix and Hyperlite, but is impressing us with their selection of boards.
Our favorite board from their current line up is the Liquid Force Remedy, a 3 stage rocker, with a flatter center curve for speed and rail control.
The Remedy's fiber glass and PU foam construction means it's going to be a good fit for boat waking, with less flex than the wood core boards designed for park.
And with a split tip and quad fin setup, this is one of the most controllable wakeboards on the market.
Well worth a look.
Pros
Exceptional control
Perfect for boat waking
Great design
Cons
Probably a little stiff for cable parks
The Hyperlite Motive wakeboard is both a great choice for an affordable wakeboard, and also an alternative to the Skate 2.0 for beginners.
It's a continuous rocker, which makes for predictable movement across the wake, and a forgiving, smooth ride. Wakeboarders who don't enjoy rough landings will appreciate this board.
Hyperlite Motive also benefits from Hyperlite's layered glass construction, which will protect it from delam, and help to retain a consistent pop year after year.
An affordable and fun wakeboard.
In Summary
It wasn't easy to pick just 5 wakeboards out of this year's selection. But we feel that there's something for everyone on our list.
Each of these wakeboards is manufactured by a trusted brand so you can be sure it's going to be super high quality and give you years of enjoyment on the wake.
We do however recognize that we're a little heavy on boat wakeboards. So if you're looking for an alternative to the Hyperlite Wishbone for park, we'd also recommend the affordable Liquid Force Eclipse, which was very close to making our top 5.
Wakeboard Buying FAQs
Here are some of the most important questions to consider when buying a new wakeboard.
what size wakeboard do i need?
The size of wakeboard that's right for you is going to primarily depend on your weight. The table below shows the wakeboard size best suited for a variety of weights.
| | |
| --- | --- |
| Rider Weight (lbs) | Wakeboard Length (cm) |
| < 100 | < 130 |
| 90-150 | 130-134 |
| 130-180 | 135-139 |
| 170-250 | 140-144 |
| 200-275+ | 144 |
What's the difference between park and boat wakeboards?
The main difference between park and wakeboards is the materials used, which affect the stiffness of the board. Park boards will tend to have wood cores, which are more supple, while boat wakeboards are stiffer, giving you more a little more pop off the wake.
You can use a park board with a boat and vice verse, but it's not ideal. So when choosing which wakeboard to buy you should consider the type of wakeboarding you'll be doing most frequently.
What's the difference between a 3 stage and continuous rocker?
The rocker is the curve on a wakeboard when you lay it on a flat surface. A continuous rocker has a smooth, flat arc, which will cause less friction on the wake and allow for higher speeds. A 3 stage rocker on the other hand has a more aggressive curve, which will give more pop off the wave, but cause more friction and provide less speed.
What are the best wakeboard brands?
Ronix, Hyperlite, and Liquid Force are our picks for the 3 best wakeboard brands in 2020. Buy a wakeboard from one of these brands and you can be confident you're buying a quality wakeboard that's going to stand the test of time.