Ready for a new kind of wake experience, but don't know where to start? Our guide to wake foiling covers everything you need to know before getting involved including:
What wake foiling is
Wake foil brands you can trust
The best wake foil board packages
Bottom Line
If you're looking to add a new dimension to your days on the water, you're in the right place. Wake foiling is about as much fun as you can have on the wake, and you can do it behind any watercraft (even jet skis) and in any water conditions, given you'll be cruising 2-4ft above the waterline.
Want the short story on which board package to buy? Our pick for the best wake foil board overall is the Liquid Force Carbon.
What is Wake Foiling?
Wake foils use a metal or carbon frame with a board fixed on top. The fins on the frame cut through the water and provide lift; you'll be 2-4ft above the surface. Essentially, apart from when you get up (or bail), your board won't touch the water.
Wake foil boards feel much like a snowboard on the piste would in the deepest and freshest powder; pretty-epic basically! But, a smooth ride isn't the only benefit of wake foiling:
You can tow a wake foil with any watercraft, including jet skis. So, you won't need to invest $30k+ on a wakeboard boat to get started
There's plenty of "give" in wake foiling, so it's easy for beginners to learn; easier than wakeboarding in fact
As wake foiling can be done behind any watercraft or boat, the cost to get started isn't as much as wakeboarding (whereby you'd need a specific boat, ballast setup and wake shaper).
Want to jump straight over and see what packages are on offer? There are some great foil boards for sale here at reasonable prices.
And to wet your appetite, here's a quick video of a Liquid Force foil in action:
How We Picked
Naturally, we're constantly gawping at wake gear, day in and day out. For this post specifically, we spent an extra 12 hours on top of what we already know, to bring together and shortlist this year's best wake foil board packages.
We're not including any cheap or "no-name" brands, simply because whilst less expensive, they don't represent good value for money. They rarely give a good ride, and don't stand the test of time...pointless!
We've only included brands that offer top quality wake foils, boards and packages. Prices range from $1000-2000, and you can jump over and see a full range of what's for sale over at one of the best retailers here.
Top Picks: The Best Wake Foil Board Brands
Whilst we've spent tons of time researching, short listing, and presenting what we consider to be the best wake foil board packages this year, all we'd really say is stick to leading brands. Our favorite brands include:
Phase Five
Liquid Force
Slingshot
Check them out here.
This Year's Best Wake Foil Boards
Below we've listed three products based on hours of research and narrowing down our very long list, to an incredibly short one.
Below we have the best:
Overall package
Foil only
Overall package for low speed maneuverability
Top Pick: Overall Best Wake Foil Set
Liquid Force Carbon Horizon + Nebula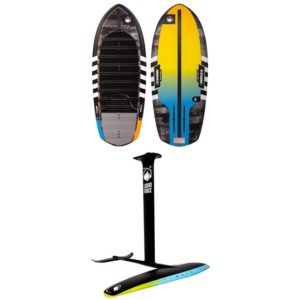 If you want the best wake foil board set on the market, you'll need to pay big bucks for it. Still, at close to $2,500 (non-carbon version available for sub $2k), we pick the Carbon Horizon + Nebula package.
You get what you pay for. If you want a board that's going to offer the best riding experience in all conditions and for all skill levels, this is the board package for you.
Want to check out current prices on the Force Carbon + Nebula package? You can do that here.
Nebula Wake Foil Board
The Liquid Force Nebula wake foil board is one of the best in the business. It uses a strong Dura Shell which means it can take a beating, but a Stringerless EPS foam which helps to give the board flex (and therefore, maneuverability).
Typically, we'd only suggest this for intermediate to advanced riders. It's been developed in conjunction with pro, Austin Keen, so isn't really spec'd to suit beginners.
For both the board and foil set, you'll get a 1 year warranty.
Carbon Horizon Foil Set
Given its carbon structure, the Horizon set isn't just strong, it's light too. With the choice of 3 shims all offering different angles, you can set this up to suit any water condition or style.
We found the package for sale at a reasonable price over here.
Top Pick: Best Wake Foil for Beginners
Slingshot Hover Glide (V3) FSurf - Foil Only
At time of writing, the full Slingshot wake foil package deal isn't available. But, a list of the best wake foils wouldn't be complete without including Slingshot; they're one of the best in the business.
And the V3 Hover Glide FSurf helps them cement that position in the industry. You can easily couple the Slingshot wake foil with a board from another manufacturer.
The Slingshot is known for maximum fun and minimum effort. It pumps much easier than a typical wake foil and that makes cruising smooth water through to linking waves ridiculously easy.
Put simply, this is a great wake foil for beginners, but it can be enjoyed by any rider from beginner through to expert.
Ready to ride? Get a great deal on the Slingshot foil here.
Top Pick: Best Wake Foil for Low Speed Maneuverability
Phase Five Chip Package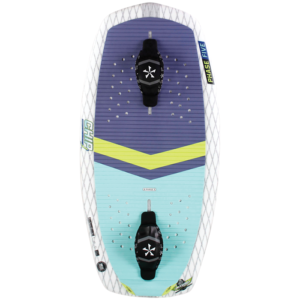 Next up we've got the Phase Five Chip foil package. Although it retails for $2k plus, we were able to find a deal under $2k here, and prices drop further for their "Gadget" range. So, what does $2k get you from Phase Five, and what type of riding is the Chip range suited to?
Put simply, this board is PERFECT for low speed wake foiling. So, if you're someone who likes to carve hard (like you would when wakeboarding), this is the board for you.

Admittedly, board stability at high speed is compromised, but that's in favor of low speed manoeuvrability.
The 760 wing on the foil means you'll also get a ton of lift; more than your average foil board setup.
The Phase Five is suitable for everyone from beginners to experts (assuming low speed foiling is their thing), and we found them for sale at incredibly low prices (as a package deal) over at this store.
In Summary
And that's it, our guide to wake foiling, including our top picks for the foil packages you should be buying.
Want to explore more? You can check out foils here, or jump over to our wakeboarding page and see what's new.