Our guide to wakeboard bindings and boots covers everything you need to know before making a purchase.
We'll quickly summarise this article, offer recommendations and then explain exactly how we picked the best wakeboard bindings with a buyer's guide.
In the next few minutes we'll cover:
This guide (in summary)
Our picks for the best wakeboard bindings
Buyer's guide (costs and binding types)
FAQ
In Summary: Which Boots and Bindings are Right for you?
If you've started looking at wakeboard boots and bindings you might be getting confused as to the difference between the two. And, that's because the majority of boots incorporate bindings in the sole. Essentially, it's a 2-in-1 boot and binding package; in comparison to snowboard bindings and boots that are separate products.
Confused about all the closure systems? We recommend closed toe wakeboard bindings (and only from leading brands such as Ronix, Liquid Force and Hyperlite).
An average day sees us trawling gear for the wake, slopes and surf anyway, but we spent an additional 9 hours shortlisting boots and bindings. Here are our top picks:
Wakeboard Bindings & Boot Brands
Let's jump right into the brands and bindings we like. If you want to read how we picked or what you should be looking for in wakeboard bindings that are not included on this list, jump down to our buyer's guide.
The main focus should be on sticking to popular wakeboard binding brands. Cheap brands just won't cut it. They won't offer the comfort, support or durability of the brands we've mentioned in the list below.
The Best Wakeboard Binding Brands
Connelly
Hyperlite
Liquid Force
Obrien
Ronix
Slingshot
Deals on all these brands and bindings can be found here.
Our Picks: This Year's Best 3 Wakeboard Bindings
After tons of research, we whittled our reasonably long list of the best wakeboard bindings, down to the 3 absolute best.
We've got one set of boots and bindings for each category including:
Men's Liquid Force Peak 6X Wakeboard Bindings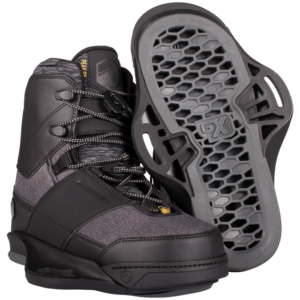 Liquid Force bindings are some of the best in the business, and the Peak 6X closed toe boots definitely don't buck that trend. Although they weigh in at close to $450 inclusive of a 1-year warranty, they're worth every cent, taking the top spot on our list of the best wakeboard bindings. And here's why…
We love medium flex bindings as they offer the perfect setup for all kinds of riding, but are comfortable enough to hang/walk around the park too. That's exactly what you get with the Peak 6X from Liquid Force.
The fit is about as comfortable and customizable as you can get with a Walk-Out liner and lacing inclusive of dual locking zones; you're supported from above your heel, all the way to your toes.
The lightweight Peak 6X boots fit all wakeboards unlike the likes of Liquid Force. The only downside is that these aren't wakeboarding bindings for beginners. Liquid Force have targeted the intermediate to expert rider with their Peak 6X offering.
Looking for the coolest, comfiest and most supportive wakeboard bindings under $450?
The Liquid Force Peak 6X can be found at good prices here.
Women's Ronix Signature Wakeboard Bindings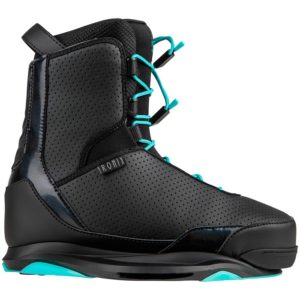 Searching for best wakeboard bindings for women? Look no further than the Ronix Signature.
We found them for sale complete with a 1-year warranty, and you'll get change from a $400 deal; that's a pretty good deal.
Admittedly, the Ronix women's bindings aren't cheap. But they're certainly worth the cash. If you're looking for a set of wakeboarding boots that are going to take a hammering - but offer you support, flex and comfort - these are the boots for you.
The main support comes from J-Bars. In fact, these are one of the strongest boots on the market. But, comfort isn't compromised like it is on other women's bindings. The softer foam interior means you won't get the chaffing or the discomfort you'd typically get with cheap wakeboard bindings.
Ronix offers a laced up Auto-Lock system. That combined with a closed toe system (as we mentioned, we're not a massive fan of open toe bindings), means you're locked in for the duration of your ride.
The sole sits in the mid-range in terms of comfort and durability rating. And Ronix recommends that these bindings suit the intermediate to expert rider, rather than beginners.
Looking for the best deals on Ronix women's bindings? We found some pretty good deals over at this store.
Kids Hyperlite Remix Jr. Wakeboard Bindings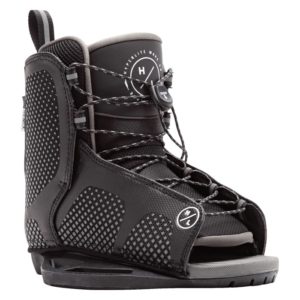 After trawling through reviews and specs, we settled on the Hyperlite Remix kids wakeboard bindings as being the best.
Sure, Liquid Force and Ronix both produce quality wakeboard bindings for kids, but in terms of owner reviews, price and quality; the Hyperlite Kids boots are the best in the business.
The Hyperlite kids wakeboard bindings are the only open toe product on this list. We tend to prefer the closed toe design simply because they offer more support. But, as the Remix Jr. come inclusive of an adjustable floating toe design and quick cinch lace zones, we feel like the kids Hyperlites offer more than enough support.
Like the other two products on our short list of the best wakeboard bindings and boots, the Remix Jr. comes with a solid 1-year warranty.
And, they're also one of the cheapest kids boots on the market, weighing in at around $170 here.
Wakeboard Bindings Buyer's Guide
How Much Do Wakeboard Bindings Cost?
If you want a quality product that offers plenty of support, comfort and is going to stand the test of time, you're going to need to pay for it.
At the low end, expect to pay $200+ for a quality set of kids bindings. Adult packages can cost up to $600 if you're looking for the absolute best wakeboard bindings and boots, but there are plenty of quality sets on offer here in the $300-450 range.
Types of Wakeboard Bindings
System
System bindings are similar to snowboard boots. They generally use a dual strap and ratchet system. They also offer a little more coverage in the ankle area due to their high back.
Personally, I they feel like they lack support.
Open Toe Bindings
Open toe bindings and boots, as the name suggests, means your toes won't be in an enclosed boot. Except breathability and the fact sizing doesn't have to be specific, we'd always choose closed toe bindings.
Closed Toe Bindings (recommended)
Closed toe wakeboard bindings are what we recommend.
They are the wakeboard boots that offer the most accurate fit, and therefore support. And your toes being covered also helps to keep you warm in the winter months too. There are plenty for sale over here.
Wakeboard Binding Installation Kits
Now you've decided on which wakeboard bindings you want, you need to install them. Most wakeboard bindings are compatible with any board, as they mostly use a M6 mounting kit. However, Liquid Force uses a unique binding installation kit, so you'll need to pair Liquid Force bindings and boots, with a Liquid Force board.
Alongside an M6 mounting plate, an installation kit will include 1/4" screws. Whilst the threads might be the same, the length may not be. Always use the manufacturer's wakeboard binding screw kit.
If you don't you might have screws that are too long/short, or you may void the warranty on your bindings.
In Summary
And that's it. Our guide to the packages on offer and our picks for the best wakeboard bindings for men, women and kids. You can grab all the products recommended on this list at good prices here.
Like what you've read? We're constantly updating our site with reviews and guides (like this one covering the best wakeboards). So, bookmark this page and pop back soon.
Still got questions? Read our FAQ below.
Wakeboard Boots and Bindings FAQ
Are wakeboard bindings and boots universal?
In general, all wakeboarding bindings use a universal installation kit; an M6 mounted plate and ¼ thread. However, some Liquid Force bindings have a specific mounting kit and screws, so always check the product description to make sure the bindings you're buying are compatible with the board you own.
Where's the best place to find new and used wakeboard bindings for sale?
eBay is always a good start for used wakeboard bindings. Looking to buy new? This wake shop over here has a decent range at good prices.
Do you need wakeboard boots?
Yes, if you don't use boots, you'll be looking at a different wake discipline where you don't use a fixed point for your feet. We've written up guides to both these wake disciplines which are wakeskating and wakesurfing.