Bottom Line
Wakeskating offers a chance to add a wicked new dimension to your wakeboarding trips. And in this 5-minute guide, we'll be explaining exactly what wakeskating is.
We'll then dive into how it differs to boarding and wakesurfing, as well as the best wakeskate boards and shoes to get you started riding.
What is Wakeskating?
Wakeskating is similar to wakeboarding in a way that you're towed along by a rope mounted to a cable system, or boat.
However, unlike wakeboarding, your feet aren't fixed to the board. For that reason, it can be a little harder to learn to get up on a wakeskate board; wakeskating is generally done by people that already have experience wakeboarding or wakesurfing.
The Difference: Wakeskating, Wakesurfing & Wakeboarding
As boardriders, we all know what wakeboarding is; being towed behind a boat with our feet secured to a fixed point (our bindings) on a board.
Bindings are not used on wakeskate OR wakesurf boards. So, what's the difference between the two?
Put simply, a wakeskater needs to be towed constantly (just as you would do with wakeboarding). A wakesurfer, once up to speed, doesn't need to be towed. They use the power of the wake to pull themselves along.
And, this is simply because wakeskate boards tend to be shorter and wider, creating more drag than a wakesurf board would. Without being towed they'd simply sink. A wakesurf board is longer, sleeker and more aerodynamic in the water, allowing riders to keep their momentum going, simply from the force of the wake.
Wakeskating Essentials
Wakeskating isn't exactly new, but it's super-cool. If you're heading out on the boat for a day, the more toys you can pack in, the better. Find yourself getting bored of standard wake? Grab your wakeskate board and get back on the water!
If you already wakeboard, you'll already have a wetsuit, rash guard and board shorts. Apart from this, the expense to get started with wakeskating is pretty minimal. And, that's why it's becoming more and more popular.
All you're going to need is a wakeskate board, and a set of skate shoes, then you're good to go!
Top Picks: The Best Wakeskate Boards
We're constantly trawling surf, wake and snowboard stores, blogs and magazines to check out what new kit is on offer (some might call us gear junkies). And of all the skates we've found, these are two of the best wakeskate boards we could find.
Essentially, one is a lower budget board, the type of thing you'd use on occasion, or in addition to your wakeboarding. Our pick for a cheap board? The Ronix Wakeskate Board. There's a great deal on it here; you'll get a bit of change from $200.
If you have a bigger budget (and want to make the most of it), or, your wakeskate board is likely to be used a lot by you and your wakeboarding crew, we'd suggest going for the Liquid Force Tao. Expect to pay around double the price of the Ronix, with the Liquid Force Tao being offered for sale here for around $400.
Ronix Collective Wakeskate Board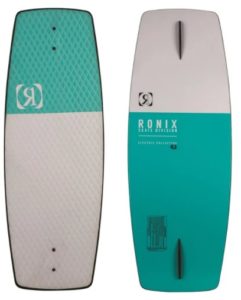 If you're just getting into wakeskating, or, are only going to use a board on occasion (probably, in addition to your wakeboarding setup), we'd be headed straight for the Ronix wakeskate board.
Like most wakeskate boards, it's designed for the intermediate to advanced wake rider. It comes with a hybrid rocker and that combined with the wooden core means there's going to be plenty of pop on tap, for even the most advanced riders.
Looking to get big air and land complex tricks? The 0.8" fin gives you the stability and accuracy you need on approaches and landings.
There's NO better way to get into wakeskating on a budget, than with the Ronix wakeskate board range. And, there's a pretty-good deal available on it here, complete with a 1-year warranty.
Liquid Force Tao Wakeskate Board
Now don't get us wrong, the Ronix is the best wakeskate board for the price. I mean, it's REALLY good for the money. But, the Liquid Tao is the best wakeskate board we could find when budget isn't an issue. Admittedly, you're paying double the price, but you do get what you pay for after all.
The Tao was built with a specific purpose in mind; for pro wakeboarder Daniel Grant to shred...hard! He wanted something durable, but also a wakeskate that could be versatile enough to hit ledges, kickers, rails and docks; just as he would on his wakeboard.
The end result was 100% Paulownia wood as the base for the core and a 3-stage rocker. That gives not just tones of pop, but consistently too.
The Sintered Grind Base gives it durability at the park, and the Liquid Force Rails ensures it stands up to years of abuse.
If you want the best wakeskate board on the market and have a $400 budget to play with, we'd highly recommend the Tao.
There's a quick review, with a bit of riding towards the end of the video, below.
Wakeskating Shoes
You'll notice a lot of people - whether that's on forums, in magazines or on blogs - saying that wakeskating is "like" skateboarding. And in essence it is. In fact, check out basically any wakeskating video, and you'll see riders wearing what look like skateboarding shoes; tons available here.
Alongside good grip tape, a good pair of wakeskating shoes is basically all that's connecting you and the board; unlike bindings that can be used for wakeboarding.
Whilst there aren't many wakeskating shoes around (i.e. specifically designed for this purpose), there are plenty of specific skate shoes that are suitable. Essentially, you're looking for something with a chunky and grippy sole, just like you'd see on the average skate shoe.
There are a ton on our shortlist for the best wakeskating shoes. We always go for the best skate brands (no cheap no-name brands for us, thanks), such as:
Vans
DC Shoes
Etnies
Emerica
Etc...
Looking for the best deals on wakeskating shoes? There are some great bargains on offer here.
In Summary
That's it. You understand what wakeskating is, and how it differs to wakeskating.
We've also listed the two top picks for the best wakeskate boards on the market, as well as suitable shoes for riding the wake.
Like what you've read? Bookmark our Wakeboarding page and pop back soon, we regularly post up reviews and buying guides covering the latest wakeboarding gear.