Bottom line: Which beginner surfboard brands are the best for you?
Looking to get straight to the point? I researched all the best surfboard brands, and listed my top 19 for beginners. From there, I shortlisted a top 3.
If you want a board, pick one from my top 3. My picks for the best surfboard brands for beginners are:
Lib Tech Surfboards
Catch Surf Co. Surfboards
Solid Surf Co. Surfboards
I then went ahead and checked out the product offering from all 3 surf brands to find their best boards. And here's what you need to know:
We picked the Solid Surf surfboard brand and their Log longboard as the best overall, as it offers everything you need to improve your surf game as a beginner, and towards the intermediate level.
And when you come to sell it for a shortboard, you won't lose a ton of cash, as the Solid Surf Co longboards (even second hand), hold their value well.
How We Picked
We constantly check up on new product releases in the surfing industry, and like all surfers, we were beginners once too (I'm still not very good in all fairness)! So, before sitting down to research and write our guide to the best beginner surfboard brands, we already knew where to start.
We first got together a list of the 19 best beginner surfboard brands. These are brands that any decent surf store will stock (like this one here). But from there, we wanted to be a bit more specific.
We used Amazon reviews, eBay reviews and compared product specs and price. Then, we looked at which surfboards are most suitable for beginners; the ones that will give you the best chance of improving your surf game quickly.
Here are the 3 best surfboard brands for beginners, and we've dropped in recommendations for specific boards too...
The Shortlist: Our Top 3 Beginner Surfboard Brands + Board Picks
Lib Tech Surfboards
Lib Tech is a brand that's featured on this site regularly (most recently in our wakesurf board guide). They make a cool range of extreme sports gear including snowboards, snowskates wakesurf boards and of course, surfboards.
In terms of price and quality, you'll tend to find Lib Tech in the mid-high range.
Lib Tech Nude Bowl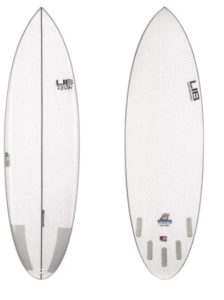 Our Pick For: The Best Shortboard For Beginners
We're going with the Lib Tech Nude Bowl as the best shortboard for beginners. But, it's worth mentioning that it is fairly difficult to get down the principles of surfing using a shortboard.
Typically, beginners will start on a longer board, progressing to a shortboard after a few months. That means you'll be buying two boards in a short period of time. So, we're seeing more and more beginner surfers biting the bullet and going for a shortboard straight up. Hence Lib Tech making its way onto this list.
Why is the Lib Tech Suitable for Beginners?
This is an aggressive shortboard, but certainly not the most aggressive shortboard on the market which makes it a more suitable beginner surfboard.
In comparison to most shortboards, the Lib Tech Nude Bowl offers slightly more volume. That might affect aggressive carving ability for an expert surfer, but it won't make any difference to performance for beginners and intermediate riders.
Instead, the extra volume providers additional stability. That means it's going to be easier to get up, ride waves and turn.
Lib Tech has other boards designed for huge swells, but the Nude Bowl focuses on riding small-mid sized waves. So, it makes this the best surfboard for beginners looking to try out a range of local spots with wave sizes from 3ft-10ft.
Lib Tech Nude Bowl Cost
If you look at our guide covering how much surfboards cost, you'll see we mention around $600 as a budget getting you a quality board. There are much cheaper boards available, but they tend to be from no-name brands.
At a sub $600 price point for a board packing a punch and from one of the best surfboard brands, the Lib Tech deserves a spot on your short list.
The Lib Tech Nude Bowl is just below that price bracket, currently priced at around $560 over here; available in two different sizes being 5ft 7' and 5ft 9'.
Catch Surf Co. Surfboards
Catch Surf Co. is a lifestyle brand and board manufacturer. They target a different market to Lib Tech, with the Catch Surf Co. boards sitting in the lower end in terms of price.
However, the quality of their boards rivals some of the best surfboard brands in the business. So, if you're looking for a bargain and excellent value for money from one of the best beginner surfboard brands, Catch Surf Co. is the company you should be looking at.
Catch Surf Odysea Skipper Quad-Fin (Jamie O'Brien Pro)
Our Pick For: The Best Cheap Surfboard for Beginners
Why is the Catch Surf Odysea Suitable for Beginners?
Shortboards are extremely finely tuned. It makes surfing, well, hard. Paddling out, getting up and turning are all much more difficult on a shortboard than they are on a longboard. But, the last thing you want to do, is buy a longboard only for your skillset to outgrow it in a few months.
Enter the Odysea Skipper Quad-Fin from Catch Surf. In comparison to other shortboards, paddling out is easy. And, that means you get more time learning to surf, rather than bailing face first. That's thanks to not just the volume of the board, but the stability that the quad fin setup provides.
Volume wise, even a small 5ft 6' board has 42L, and the larger 6ft 6' board will have 55L. The more the merrier!
If you're on a budget and looking for a product from one of the best surfboard brands on the market, you won't go wrong with the Odysea Skipper Quad-Fin.
Odysea Skipper Cost
The big question: how much does a beginner surfboard like this cost? In short, not a lot!
Looking at the Lib Tech mentioned above, you'll need a budget of around $600. The Odysea Skipper? If sizing puts you on the 5ft 6', you're looking at $325. That rises to around $350 for the 6ft, and $375 for the 6ft 6' board. All in all, excellent value for money.
You can check prices and read customer reviews on the Odysea Skipper from Catch Surf here.
Solid Surf Co Surfboards
Solid Surf Co Log
Our Pick For: The Best Beginner Longboard
Why is the Solid Surf Co Log Suitable For Beginners?
Now, the recommendations from two of the best beginner surfboard brands mentioned above, are both shortboards. Whilst they might be harder to get going as a beginner, once you've locked down the basics, you'll learn quickly, and won't be limited by the board.
Prefer to ease yourself into surfing, or, like the ideal of longboard surfing (maybe a bit of nose riding?), rather than aggressive carving? The Solid Surf Co Log is where you need to be at, and all the reviews we've read online seem to confirm that.
The benefits of the Solid Surf Log longboard over the two beginner surfboards we've mentioned above are:
Easier to get up
Quicker to learn to turn
You'll be able to nose ride (with a bit of practice).
Why? Because the volume of the Log longboard is much higher than shortboards. The shortboards mentioned above are around 50L in volume, whereas the 9ft Log is a massive 72L. That's going to mean stability is at its absolute max.
Put simply, the best beginner surfboard brand offering a longboard, is Solid Surf. You can check out prices and availability here.
Cost
The Solid Surf longboard isn't cheap, but it's worth the cash. You won't get much change from $1,000. But if you're a beginner and serious about longboarding, this board is going to see you through the next few years and beyond. On a per hour basis (and accounting for fun factor), there are not many hobbies or products that are going to offer that value for money.
You can check out specs and more pictures of the longboard from the Solid Surf surfboard brand here.
Full List: The 19 Best Beginner Surfboard Brands
Not taken by the 3 best surfboard brands and specific boards mentioned above? No problem.
We've compiled this list of the best surfboard brands. As long as you stick to these brands, and suitable board sizing, you won't be going far wrong.
There's a good range of surfboard brands on offer over at this store here.
Almond Surfboards
Catch Surf
Chili Surfboards
DHD
DVS
Hayden Shapes
JJF by Pyzel
JS Industries.
Lib Tech
Lost Surfboards
LSD Surfboards
NSP
Sharp Eye
Softech
Solid Surf Co
Stacey Surfboards
Superbrand
Webber Surfboards
Wilde Shapes
In Summary
Thanks for reading our guide to the top brands in the surf industry and the best surfboards for beginners. For those looking to progress slowly and learn the right techniques for surfing, the Solid Surf Co Log longboard is where your money should be spent. You can compare them to other beginner surfboards here.
Enjoyed your time here at SkiSurfWake? Bookmark our surf page. We constantly add guides like this one covering how to wax a surfboard, so pop back soon and see what's new.